Adult recreation 2023
04/06/2023
Michal Skořepa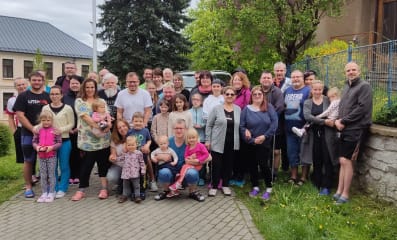 From 13th to 19th May in Bystré near Polička another convalescent stay of adult haemophiliacs took place.
There is certainly no need to go into detail about its course, which was again focused mainly on rehabilitation. This was complemented by exercise and swimming in the pool, whirlpool, sauna, trips and social evenings. Taking into account the long-lasting similar programme, the same place for the third year and the willingness of the CSH Council to meet its members, we decided to ask the participants about their satisfaction with the organisation of the stay and the possibilities of its improvement. We received the same number of answers to a total of 15 questions. This corresponds to about half of the adult participants.
The overall score was very positive, 4.73 out of 5. The stairs to the pool were the main thing missing for full satisfaction. On previous stays we had been provided with mobile steps, but they were destroyed and no one warned us. Unfortunately this made access to the pool significantly more difficult. The hotel management promised to build fixed stairs by the end of the year, which will eliminate the problem.
However, 13 out of 15 respondents were satisfied with the facility overall. The number of stairs was cited as a negative. Nevertheless, only 5 people would appreciate a change of facility for next year's stay. 10 would still like to return to the same place at least next year (one would not change at all...). We did not receive a specific tip for a new property.
The range of treatments (RHB, swimming pool, whirlpool, sauna) was rated as sufficient by all. Nevertheless, one of us suggested some organised physical activity in the afternoon. It's definitely a matter of agreement and some group exercise or afternoon pool exercise can be planned.
The questionnaire offered the possibility of various educational activities during the stay. Most showed no interest, at most some summary of recent news. Responses indicated that respondents also attend CSH events that are educational in nature and important information is obtained there.
Although probably meant with exaggeration, one educational request did emerge. Table tennis tournaments are very popular during the stays and one of us would like to become a professional player. This probably won't happen in a week's training as part of our recuperation, but it is an interesting suggestion and we will try to work something out.
And what is our conclusion. Next time in the same place and in the same spirit. But not to rest on our laurels and already start looking for a new object. At the same time, make the stay more public and attract new participants. This year, after many years, we did not welcome any newcomers.
Thank you very much for your reactions and I look forward to further meetings together.